The Spanish chemical industry remains a strategic sector for the country's economy, as well as an important generator of wealth and employment. The success of the Spanish chemical industry is due to several factors, including its production capacity and industrial tradition, the outstanding geographic location and logistics infrastructure, and its innovation capacity.
Let us now consider the main data collected by FEIQUE (Federación Empresarial de la Industria Química Española) to form a more precise idea of this sector.
An overview of the sector
The Spanish chemical industry represents 5.4% of GDP and 3.7% of the active employed population, if we consider its indirect and induced effects. And it continues to be the 2nd largest exporter of the Spanish economy and the 1st industrial investor in research, development and innovation. 
During 2021, the Spanish chemical industry achieved a record 19.7% increase. But we must not be deceived by this figure, largely determined by the high price of raw materials and energy, which limited profitability margins.
The export value
2021 was characterized by a very intense demand for chemicals. In particular, a 21.1% growth was recorded for exports, ranking the chemical sector as the second largest exporter of the Spanish economy, just behind the automotive industry.
Almost 60% of its turnover takes place in other markets, with a demand that is concentrated in the EU and the US. As indicated in the FEIQUE report, "the eleven export destination countries for a value of over 1,000 million euros, represent 63% of the total foreign turnover, which shows this industry's great capacity for adaptation and capillarity in international markets".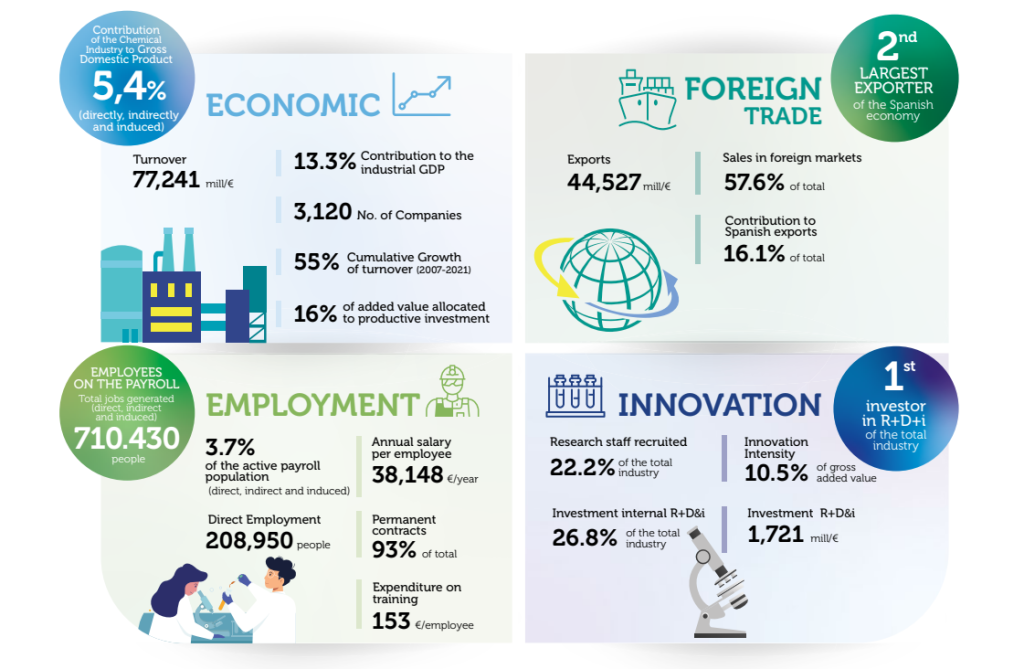 Profitable contracts
In terms of employment, the Spanish chemical industry managed to maintain its direct workforce stable with 208,950 direct employees and, at the same time, generate quality jobs. In fact, it must be emphasized that the sector guarantees stable and well-paid jobs. 93% of direct jobs in the chemical industry are indefinite, with an average salary per worker that exceeds 38,000 euros per year, 67% above the average salary in Spain (22,800 euros / year).
Focus on innovation
As we have already anticipated, the chemical sector leads the investment in R+D+i of the entire industry, an area to which it allocates 1,721 million euros per year. The commitment to innovation is part of the objective of decarbonising the sector. And the vector of this change is digitalization, capable of offering sustainable solutions to other sectors and of making chemical industry processes more efficient and safer.
The Spanish chemical industry supplies products and technologies to 98% of the productive sectors and is the basis for countless production chains. This incontrovertible figure proves once again how the chemical industry is one of Spain's main economic forces, capable of leading the country towards a successful and sustainable future.  
Sources: feique.org, investinspain.org
Stay up to date on the latest news from the B2B world, follow us on LinkedIn!