Over the past decade, Italy has been a leader in renewable energy, and slowly became the third largest European producer of renewables.
In Italy, alternatives to fossil fuels account for a large part of the country's energy production, and the percentage continues to rise year after year. In 2019, Italy produced 16,3% of its energy from renewable sources: it's a similar number to Germany (17,2%), but superior to France (11,7%) and the United Kingdom (14,5%).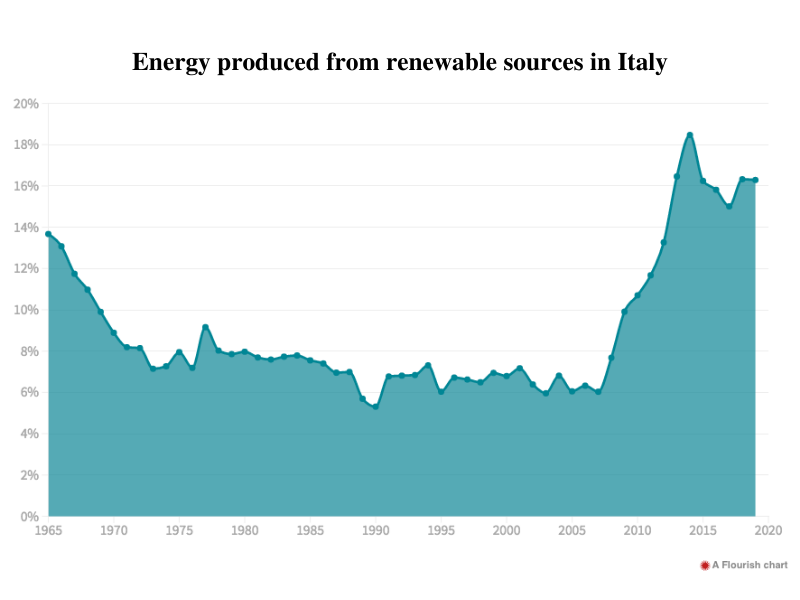 The urge to produce green energy in Italy came from the need to become independent from the affluence of fossil fuels coming from Eastern Europe, the Middle East and North Africa, and to adapt to the international agreement of the Kyoto Protocol, signed by the country in 1997.
Italy's renewables by sector
Italy's generation of green energy varies based on the characteristics of each area and the distribution of particular renewable resources. For example, hydroelectric power is dominant in the Alps, where the terrain is sloped, and photovoltaic power is more common in the South, thanks to its great quantity of sun exposure.
In recent years, we can see how there has been a growth in terms of distribution: according to the Legambiente's Comunità rinnovabili plan, in 2021 Italy has installed 1,1 millions of plants from renewable sources, able to meet 37.6% of Italian electricity consumption.
In Italy, hydropower is the most important renewable source: hydroelectric plants in our country are about 4,300, placed mostly in the Northern part of the peninsula. By transforming water's potential gravitational energy into electricity, hydroelectricity represents an enormous renewable resource: it can provide valuable network services and secure power system management.
Around one-twelfth of the total energy produced in Italy, renewable and not, derives from photovoltaic plants. This impressive growth has taken place over just a few years, and the energy production of the photovoltaic went from less than 1% in 2000, up to 22% today.
According to the snapshot of the International Energy Agency, Italy is now one of the top ten countries for total installed capacity in 2021.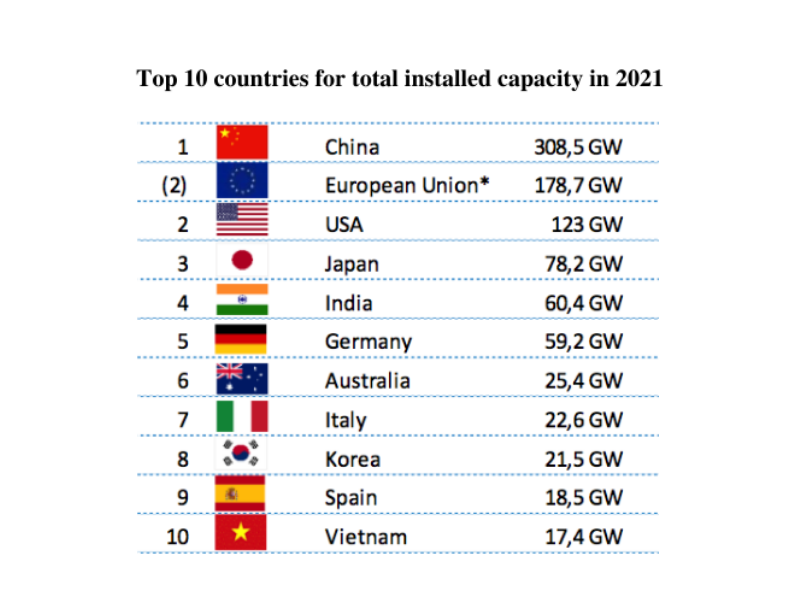 Wind power in Italy is experiencing progressive growth: we already have 5,000 plants spread across the country, and the number is steadily increasing.
Forecasts predict that the total energy obtainable from Italian wind power could double within a decade. In fact, wind energy counted less than 1% in 2000, then increased to 12% in 2010 and up to 16% today.
The world's first ever geothermal power plant was built in Larderello in the province of Pisa. Italy has stood out globally for its capacity for innovation in exploiting geological energy sources.
The idea was to use the steam emitted from below the ground as an alternative to coal-powered steam engines: in summer, the excess heat is stored underground and then recovered and transformed into electricity in winter. To this day, Italy is leading the world in this type of energy production.
In conclusion, as we can see, the renewables landscape is more open than ever, and for this reason work is progressing on many fronts. Italy, as well as other European countries, aims at the zero emissions objective by 2050.
Source: enelgreenpower.com
Stay up to date on the latest news from the B2B world, follow us on LinkedIn!