Sauermann, a company with over 45 years of experience in designing, manufacturing, and marketing products and services for the HVAC-R and industrial markets, continues to innovate and enhance its range of professional measuring instruments.
The Si-VH3 Thermo-anemometer: a guarantee of quality
The latest addition to their collection of precision instruments is the Si-VH3 Thermo-anemometer, a cutting-edge device designed for HVAC-R professionals who demand maximum precision and convenience in their measurements.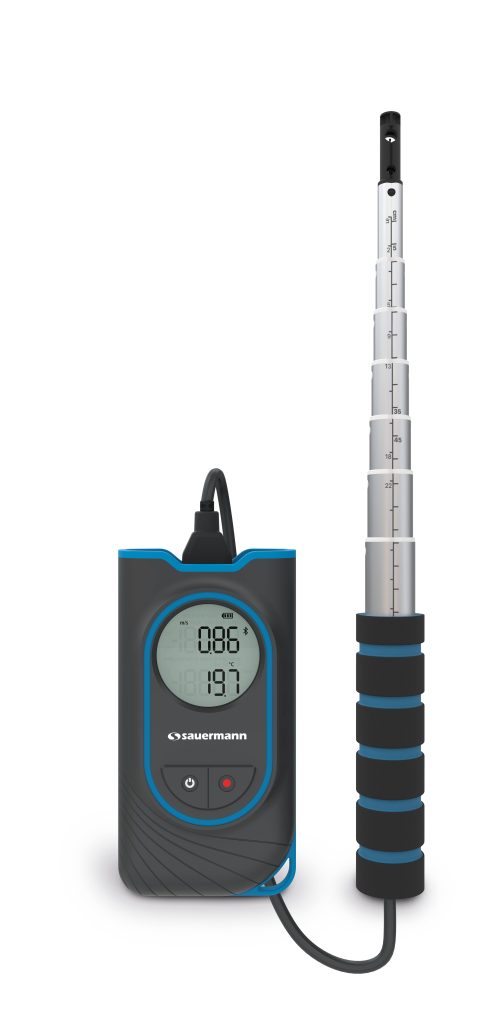 This thermo-anemometer features highly sensitive hot-wire technology that provides an alternative and highly reliable solution for air flow measurement. Its ability to accurately detect air flow and velocity values within ventilation ducts makes it an essential tool for industry technicians.
But the Si-VH3 goes further, offering the capability to perform air leakage tests, detecting even the smallest leaks and identifying thermal insulation defects through integrated temperature readings.
Technical Features
What makes the Si-VH3 even more versatile is its wireless connectivity with the Si-HVACR Measurement App, developed in-house. This application offers advanced functionalities, including the ability to send measurement reports via email in various formats, such as PDF, XML, or CSV.
Furthermore, the magnetic support on the back of the instrument allows professionals to take measurements with unmatched freedom of movement, ensuring unparalleled convenience in the field.
Another distinctive feature of the Si-VH3 is its telescopic remote probe. Its length can vary from 18 to 82 cm, including the handle length. This feature makes even high ducts accessible, while the graduations on the probe enable precise control of insertion depth into the ducts, ensuring perfect measurements in any situation.

The Si-VH3 joins a complete range of high-quality HVAC-R instruments offered by Sauermann. This range includes instruments for measuring temperature, humidity, pressure, air velocity, and air flow, and even for detecting gas leaks. With Sauermann, HVAC-R professionals can trust the quality and precision of their measurements.
With the launch of the Si-VH3 Thermo-Anemometer, Sauermann once again demonstrates its commitment to providing high-quality measuring instruments for HVAC-R professionals, ensuring the accuracy and convenience they need to perform their work effectively and efficiently.
Visit the Sauermann website to learn more!