Case histories are always very useful for finding suitable solutions to a wide variety of application problems. That's why Vuototecnica, also to maintain some shared knowledge and pass it on, decided to create a Youtube channel a few years ago.
Today the channel is very popular and there are constantly posted application videos on site, in clients' plants, or recorded in laboratory during testing phases.
The intent is to reach viewers by letting them see firsthand what Vuototecnica products can be used for, what flexibility and effectiveness they have.
By browsing Vuototecnica Youtube profile, you can also watch application videos by sector: packaging, automotive, marble and more.
If, for example, you want to learn more about Vuototecnica solutions in the plastics sector, you can find the "plastic" playlist with a roundup of more than thirty videos:
– vacuum grippers that take flowpacks of bulk products and colored films;
– Octopus vacuum gripping systems that move plastic molds and trays with uneven or hollow surfaces;
– Bellows suction cups for handling bags of pasta and other food products;
– vacuum generators and cylinders suitable for rapid pick of small plastic items;
– robotic pick and place of plastic cups at very high frequency;
– level-compensating suction cups, pallet loading and unloading, sometimes even including opening of bags to spill contents;
– handling of plastic parts in the automotive industry;
– taking plastic and latex gloves in-line;
– creation of boxes of plastic packaged goods, and much more.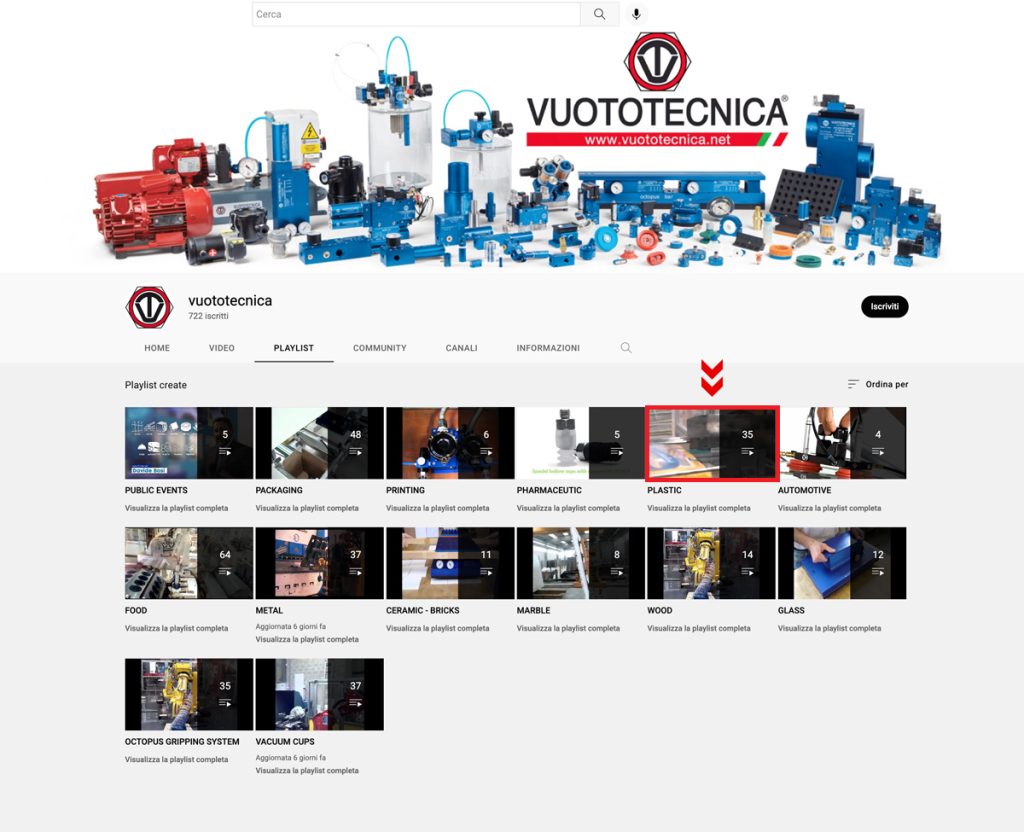 If you would like to read about the features and strengths of each product, you can find everything on the company blog at www.vacuumdaily.net.
Finally, to view drawings and technical specifications you can visit www.vuototecnica.net.