CELMI srl, specialized for over 40 years in the design and production of industrial weighing systems, is also present  in the sector of ice cream production plants, which has always been synonymous with freshness and creaminess, a  pleasure for the palate for both adults and for children.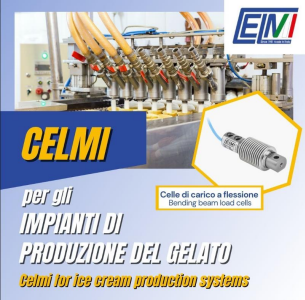 But how is this typically Italian food specialty made? At the heart of this sector are the industrial ice cream production  plants, made up of highly technological machinery capable of transforming the basic ingredients into real delights. For  over forty years, the Celmi team has been involved in supporting professionals in this sector through the supply of load  cells, mainly of the "bending" type.
Generally used in single cell applications, they can also be grouped together in  groups of three or four units to create more complex weighing systems. Thanks to their versatility of use and  precise and reliable results, these cells are suitable for weighing continuous dosers, as well as filling systems, such as those  found in ice cream production plants.  
Celmi bending load cells represent for this industry a fundamental tool for precise weight measurement during  each phase of the manufacturing process of ice cream, from the treatment of the mixture to the refrigeration, from the filling up to the  final canning.
Thanks to the load cells it is therefore possible to optimize the use of raw materials and avoid waste. Among the bending load cells, the one that best meets the weighing needs of this sector is certainly the 54 type, suitable  for low-capacity weighing systems up to 500 kg, especially in the presence of small platforms, hoppers, belt scales or  continuous dispensers.
Its main technical features include:
Capacity range: 2-5-10-20-50-100-200-300-500 Kg. 
Immersion-tight construction. 
Bi-directional use. 
Micro-plasma welded stainless steel body and bellows. 
High accuracy (OIML C3). 
ATEX certification. 
The relative ASSEMBLY KIT is available, proposed in 6 different variants: TYPE K54-1P, TYPE K54-1S, TYPE K54-A,  TYPE K54-A, TYPE K315/54-SFERA and TYPE K315-54A 
Discover the high resistance, precision and reliability of our bending load cell and visit the dedicated section on our  website.
For more information and details on our products and for the other solutions in the CELMI srl catalogue, you can visit www.celmi.com and write to info@celmi.com