CELMI srl, specialized for over 40 years in the design and production of industrial weighing systems, is also present in the sector of tomato harvesting systems, excellence of the Italian agro-food industry.
The tomato, certainly one of the ingredients that cannot be missing in our kitchen, how does it reach our tables?
We at Celmi know this well and have always been at the side of farmers with our load cells and weight transmitters to support them during the delicate harvesting phase. This crucial moment requires the use of the right machinery, which allows for quick and precise harvesting, preserving the quality of the tomatoes and minimizing losses.
Harvesting machines are the solution to improve efficiency and overall productivity, as well as to maximize  crop yield and contribute to a more sustainable and responsible management of resources. Precisely for this  reason, we at Celmi have designed the TDSC-BN transmitter for dynamic weighing which can be installed on the conveyor belt of the machines, in order to accurately calculate the weight of the product collected in one hour. 
This digital device is in fact equipped with a LED display for greater efficiency and, usually connected to the conveyor belt of the harvesting machines, guarantees continuous weighing of the products. In this way, farmers are able to optimize the harvesting process to the maximum, calculating in an extremely precise way the kilos of tomatoes harvested in an hour.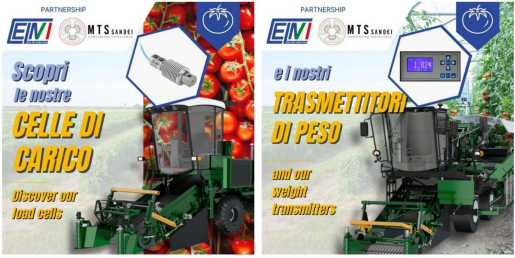 Main features of the TDSC-BN transmitter:
Suitable for up to 4.350Ω;
Load cells powered by protected circuit;
Four digital relay outputs;
Three opto-isolated digital inputs;
Internal control circuit;
Standard analog output 4-20mA;  
RS485 MODBUS RTU serial output; 
Panel mounting;
6-digit LED display without decimal (5 + decimal) • optional output: RS232 for printer connection;
In combination with the TDSC-BN transmitter, to ensure precise weight reception, Celmi offers its bending load cells, the ideal weight receptors for these applications, also positioned along the conveyor belt of the harvesting machines. This mix of bending load cell and transmitter ensures accurate weighing of tomatoes as they are being harvested.
For over forty years, we at Celmi have been committed every day to designing versatile, precise, resistant bending load cells, manufactured following the highest standards of industrial quality and reliability, with the  aim of providing our customers with the best products on the market and meet their specific needs. 
For more information and details on our products and for the other solutions in the CELMI srl catalogue, you can visit the website www.celmi.com and write to info@celmi.com