CELMI srl, specialized in the design and production of industrial weighing systems for over 40 years, is also present in the agri-food sector, in particular in the coffee sector, to respond to specific roasting and storage needs of the beans.
Coffee, a drink that awakens the senses and brings people together in every corner of the world. Behind every sip, there is a fascinating world: from the moment the beans are harvested, through all the phases of a long and meticulous journey, which transforms them into a unique sensory experience.
We at Celmi are alongside all the professionals who deal with the management of coffee roasting and storage systems, thanks to our low profile compression load cells with ATEX certification.
Our mission? Ensuring that every step in the coffee production process is precise and above all safe.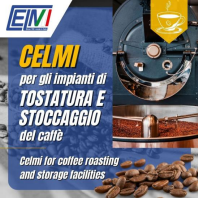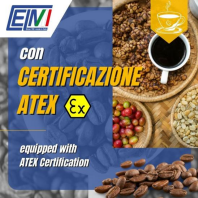 The coffee roasting and storage systems are the place where the beans acquire the unmistakable aroma and enveloping taste that characterizes this drink. But, due to dust and vapours, they can transform into potentially dangerous areas at risk of explosion. Safety and efficiency are fundamental for us at Celmi.
That's why we design and manufacture low profile compression load cells specifically designed for these environments.
Equipped with ATEX certification, they are designed to guarantee maximum reliability even in the most complex situations. In particular, the Type 142 cell is made entirely of stainless steel, offers high resistance to transverse loads and has been designed for low, medium and high capacity weighing systems, up to a maximum of 200 tons.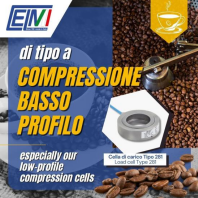 On the journey that takes coffee beans from plant to cup, precision is everything. Behind the scenes, our low profile compression load cells play a key role. Used especially for weighing silos, tanks, platforms and hoppers, these high-tech devices are essential to ensuring that the quality of each bean is preserved throughout the processing phases in roasting and storage facilities.
The Type 281 load cell, entirely built in stainless steel and equipped with ATEX Certification, stands out as the ideal solution in load control systems, guaranteeing a final product of high excellence and quality.
For more information on our weighing solutions for the agri-food sector and to discover all the other products in the CELMI srl catalogue, you can visit the website www.celmi.com and write to info@celmi.com.