CELMI srl, specialized in the design and production of industrial weighing systems for over 40 years, is also  present in the oenological plant sector, in particular in the very important filtering phase. 
These highly technological tools play a crucial role in all phases of the winemaking process, guaranteeing a final product of the highest quality and integrity, Italian excellence, recognized throughout the world.
For professionals in the sector, oenological plants are not just work tools, but real allies. Precisely for this reason, we at Celmi have designed the LP7611 single-cell platform, used to ensure a constant dosage of the detergent, used for optimal washing of the filtration systems. This operation is of fundamental importance in the wine production process, because it allows to eliminate deposits and turbidity from the wine and to stabilize it microbiologically, to offer a qualitatively excellent product.
The LP7611 scale by Celmi is a single-cell platform ideal for automatic dosing during the winemaking process inside  oenological plants. In particular, this instrument has a robust structure completely in stainless steel that takes up  minimal space, and can be easily integrated even in complex industrial automation systems. It is equipped with  swiveling and unscrewing load feet and an off-center load cell, capable of supporting a maximum weight of 500  kg in the larger models.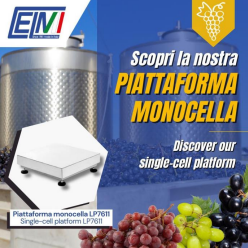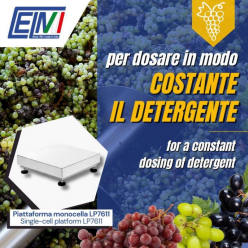 Key features of the Celmi LP7611 single cell platform:
Load cell power supply: 12 VDC Max;
Load cell output: 2 mv/v;
Load cell resistance: 400 ohm ± 10%;
Load cell material: aluminum;
Load cell protection: Ip65;
Max. overload: >200% capacity;
Combined error: 0.02% capacity;
Structure material: painted;
Scale plate material: stainless steel;
Rotating and unscrewable loading feet; 
Functions: weighing, piece counting, weight control, animal scale;  
Column for indicator;
Sturdy construction with minimum encumbrance;
Off center load cell;  
OIML;
Easy installation;
Option: full stainless steel (frame + plate); 
For more information and details on our products and for the other solutions in the CELMI srl catalogue, you can visit the  website www.celmi.com and write to info@celmi.com.