Oil and gas is Canada's highest emitting sector, accounting for approximately 27% of the country's total greenhouse emissions in 2020. However, the sector plays a crucial role in the country's economy and in the energy security of its trading partners. The importance of the Canadian oil and gas industry is evidenced by the rankings: it was the world's fourth largest oil producer and the fifth largest gas producer in 2020.
The values of the sector
The oil and gas sector is a major contributor to Canada's economy. In 2020, it generated $118B in GDP and accounted for 16% of Canada's exports (valued at $86B). The industry is also a major employer across the country. In 2020, Canada's oil and gas sector employed 178,500 direct and 415,000 indirect workers.
Net-zero by 2050
However, these amazing results must be reconciled with the net-zero target by 2050. The Canadian economy aims to achieve no emissions of greenhouse gases (GHGs) by 2050 or to obtain a full compensation of emissions by removing carbon from the atmosphere through other actions, for example, planting trees or carbon capture and storage technology deployment.
Oil and gas sector background
As we wrote at the beginning, the oil and gas sector is Canada's largest source of GHG emissions, accounting for approximately 179 Mt, or 27%, of total national GHG emissions in 2020. Absolute GHG emission from the Canadian oil and gas sector grew by 5% from 2005-2020, while the production increased by 26%.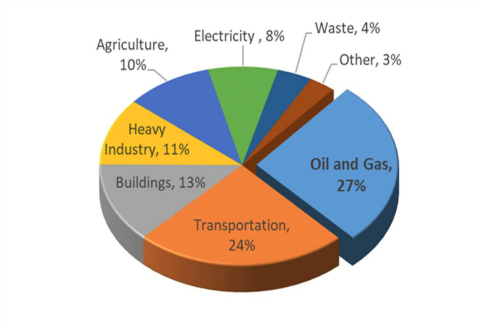 The sector emissions profile
The GHG emissions intensity of Canadian oil production declined from 2005-2020, as the sector reduced the amount of energy needed to produce each barrel of oil through energy efficiency, fuel switching and deployment of additional clean technologies. Canadian oil and gas producers operate extraction and processing facilities that are among the world's lowest emitting of their type.
Despite these improvements, the GHG emission intensity of Canadian oil production is among the highest in the world, driven by combustion intensive oil sands production processes.
Solutions in progress
To achieve Canada's 2030 climate targets and net-zero, however, significant additional reductions are needed. There's no single or simple solution for transitioning the country's oil and gas sector towards net-zero by 2050. And solutions will also vary across regions, depending on access to infrastructure, carbon storage, energy grid combinations, and availability of clean electricity and other fuels.
Many process improvements and clean technologies are commercially available or will be ready for implementation this decade. These include relatively low-cost solutions to improve energy efficiency; let's try to analyze the main ones:
Electrification includes the deployment of cogeneration, renewables, small nuclear reactors, or electrification of transport equipment, operational processes and low-temperature heat processes to reduce GHG emissions from the combustion of fossil fuels throughout the oil and gas sector.
Steam displacement refers to the use of solvents (diluent, propane, and natural gas) that chemically dilute bitumen to reduce viscosity and allow it to flow at lower temperatures, reducing the need to generate and use steam by in-situ oil sands production.
Fuel switching opportunities include replacing petroleum coke boilers with natural gas equipment and the expanded use of low-carbon or renewable fuels for heat and energy, including clean hydrogen.
Energy efficiency and other process improvements include upgrades to equipment, use of advanced leak detection and repair technologies, digitization and automation of processes.
Methane Abatement options include continuous leak detection and repair, electrification of equipment such as compressors and pneumatic devices, fueled by natural gas, and limiting fugitive releases from tanks and wells.
Carbon Capture, Utilization and Storage (CCUS) has the potential to mitigate a significant share of GHG emissions from the oil and gas sector by 2050.
The need for a forward-looking approach
Although these operations are preparing to give a big sustainable boost to the sector, achieving significant additional emissions reductions will require further innovation and a massive scaling-up of emerging technology and infrastructure solutions. For this reason, the Canadian oil and gas sector is one of the leading investors in clean technology and innovation in the country, making an estimated 58% of all energy research and development investments over the decade to 2019.
Source: canada.ca
Stay up to date on the latest news from the B2B world, follow us on LinkedIn!