Still dependent on coal to power plants during the 21st century, the Greek government plans to move faster to alternative and renewable sources. In recent years, the Greek renewable energy market is experiencing strong investor interest from local and foreign groups, pushing the government to accelerate the energy transition process.
According to the EU Statistics Office, Greece has exceeded the 2020 goal by drawing on renewable energy for 21.7% of its energy consumption and aims to increase the figure to 35% by 2030.
Even now, the renewable energy sources in Greece are breaking one record after the other, both at investing and demand level. In 2022, green technologies covered 67% of the country's energy needs, which is a new record.
One of the most used energy sources in Greece is undoubtedly the solar one. In fact, thanks to its position, the country can count on a large exposure, which allows it to exploit a large quantity of solar energy, as we can see in the following map.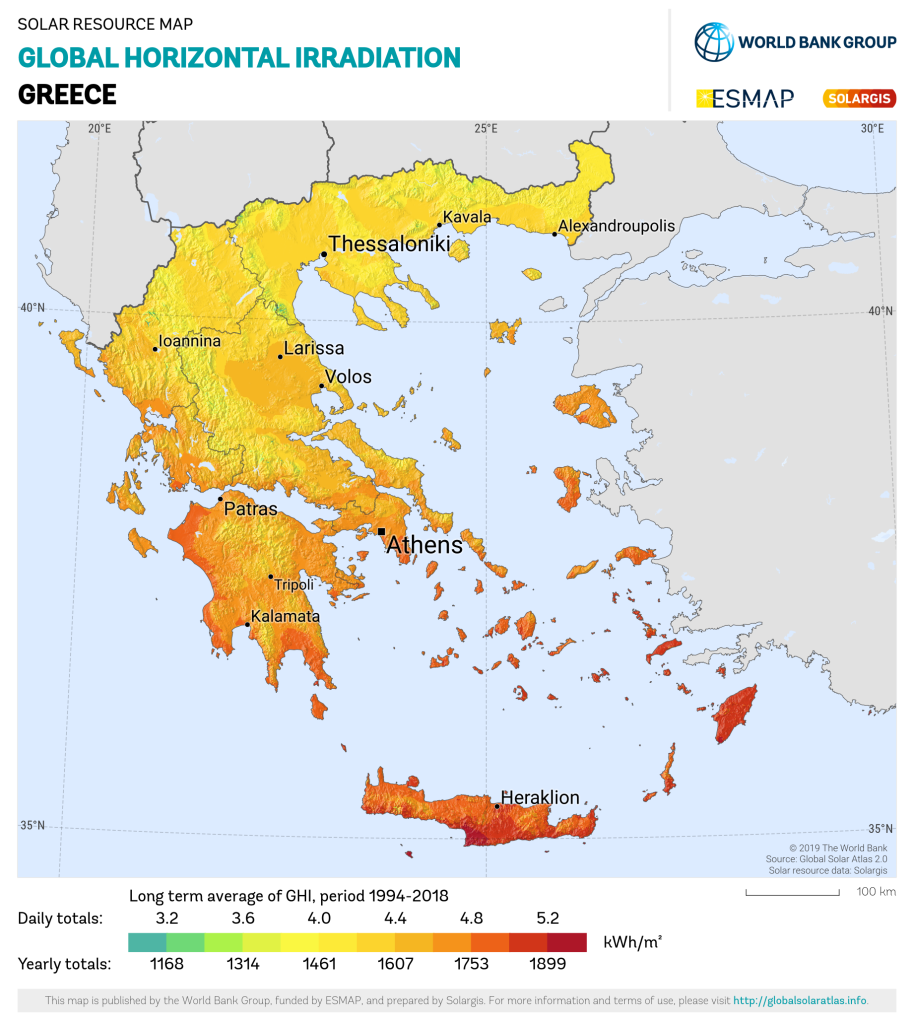 The new Greek bifacial solar park
The development of solar power in Greece started in 2006 but peaked only in 2009 and, as of December 2013, the total installed photovoltaic capacity in Greece reached 2,419.2 MWp.
In April 2022, the Greek Prime Minister, Kyriakos Mitsotakis, inaugurated a new solar park in Kozani, the country's Western Macedonia region. It is the biggest system with two-sided (or bifacial) panels in Europe.
The double-sided photovoltaic module is a particular type of panel that can generate energy from both sides of the photovoltaic cell. They can produce one third more energy than monofacial solar panels.
They are thin and need special shelving to achieve maximum exposure to the sun. The side of the panels not facing the sun can use the light reflected from the ground, and for this reason, the lighter the surface, the more effective it is for the solar panel.
Due to the cost and the fact that they have to be mounted on the ground, double-sided panels are best for commercial use. According to EnergySage, double-sided panels can produce 27% more solar energy than a similar-sized system using single-sided panels.
The newly-opened park is expected to generate 350 GWh of electricity capable of powering 75,000 homes annually. It has 500,000 bifacial panels and will be connected to Greece's power grid in the next couple of weeks.
With this opening, Greece confirms its commitment to a sustainable future.
Source: euronews.com
Stay up to date on the latest news from the B2B world, follow us on LinkedIn!